TRY BEFORE BUYING
WE PROVIDE YOU WITH THE OPTION TO TEST SELECTED DEVICES FROM OUR PRODUCT RANGE AT OUR PREMISES FREE OF CHARGE.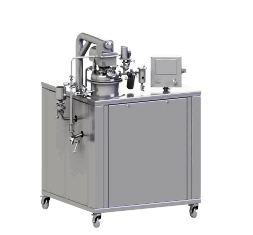 HOMOGENIZER MIXERS
The most advanced 10-litre laboratory homogenizer mixer available on the market. It has been designed to conduct process tests in laboratories with transferring all device parameters to mass production in line with the "scale-up" principles. The innovative equipment of the homogenizer mixer will allow you to get familiar with the abilities of GRASON and the technical solutions available on the market. Subassemblies and components used to construct the mixer have been selected in cooperation with suppliers satisfying our most stringent regulations required by modern manufacturing plants.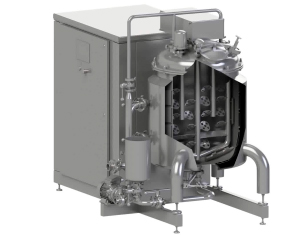 LIQUID MIXERS
The universal mixer is intended for producing liquids, shampoos, conditioners, gels, emulsions and suspensions. Besides the traditional mixing method with a frame mixer, the used special bypass system enables flow mixing without a mechanical agitator. The mixing process takes place in a special chamber, installed directly on the bypass pipe. The strong flow rate and vacuum generated in this system enable introducing raw materials under the product table without the need to create vacuum in the tank. A set of replaceable sieves and filters accelerates the pulping of sparingly soluble raw materials or such that have a tendency to agglomerate. This is a very cost-efficient solution that enables purchasing a fully functional mixer at an attractive price. The universal mixer has been designed so as to highlight the design solutions that are hidden and unavailable to the user. The design of both the liquid mixer and the test homogenizer mixer follows the scale-up principle.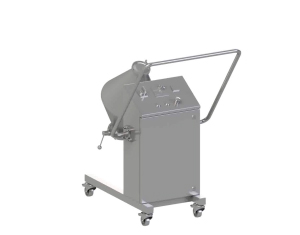 DRUM MIXER BLENDER
It is used to mix loose and dry raw materials, and not only in the pharmaceutical and cosmetics industries, but also the food and chemical sectors. Drum mixer blenders are suitable for mixing such raw materials as powders, fragrances, flavours, thickeners, dyes, spices, herbs, loose substances, loose forms. The drum mixer blender is intended for mixing loose and dry raw materials. In most plants, the instability of raw materials or supplies from various producers lead to issues associated with maintaining the repeatability of the end product. We have developed a drum mixer blender for loose substances and powders to satisfy the needs of pharmaceutical and cosmetics laboratories. The objective of mixing is to combine and homogenize two or more ingredients, often exhibiting various properties, particle sizes and specific gravity.