OIL, FAT AND WATER PHASE MIXERS (MELTERS)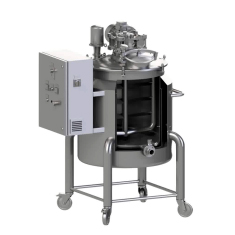 The main use of melters is the preparation of the fat and oil or water phase for further production and cooperation with homogenizing mixers or liquid mixers in cosmetic, pharmaceutical and food plants. The dissolved and prepared oil phase can be fed under the generated vacuum in process mixers directly to the homogenizing agitator or into the by-pass system for quick connection with other raw materials.
These mixers are equipped with a heating jacket and a stirrer as well as control depending on the customer's needs. Heating can take place by means of electric heaters, resistance wires, hot technological water directly from the plant network or through a steam exchanger. The medium of the heating jacket can be water, oil or glycol.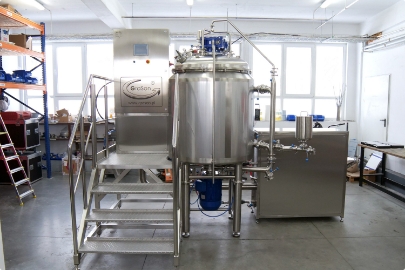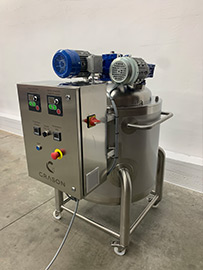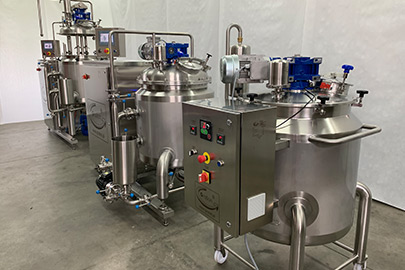 Specification and equipment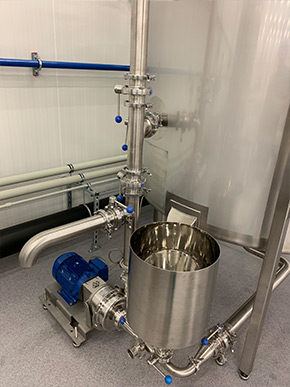 Material exposed to the product – AISI 316L (1.4404) acid-resistant steel, other – AISI 304 (4301).
Execution in accordance with hygienic standards in line with FDA regulations and the HACCP system.
No dead zones within the mixing processes.
Screwed top cover that can be disassembled for service purposes, with a loading hatch or flap.
Low-speed, right-to-left frame agitator supporting horizontal and vertical raw material movement; speed range 10-60 RPM.
Loose or liquid raw materials feeding through the process hatch or flap.
Flap drain valve.
Compatible with process mixers.
Process ports in Triclamp or DIN technology.
Breather valve.
Heating jacket with operating temperature up to 130 °C.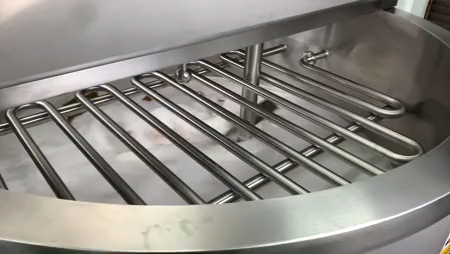 Load cells.
Min./max. level sensors.
Rotating washing bowls.
Fixed wave breakers with directional blades.
Aseptic process hoses.
Transfer pump.
Possible sealing material: Silicon, Viton, Teflon, NBR, EPDM.
Extensive controls: Siemens touch panel.
IQ and OQ validation documents.
Control – operating panel:
Control – operating panel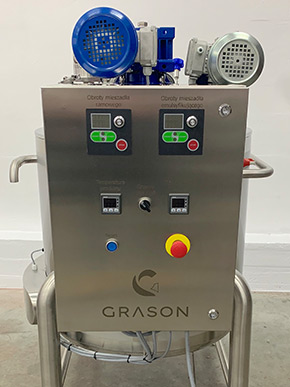 Mixing time setting and reading.
Smooth frame mixer operational adjustments.
Heating system temperature setting and reading.
Product temperature setting and reading.
Any setting of hysteresis for heating.
Automatically maintained product temperature.
Real-time preview of the current process.
400 V/50 Hz 32–63 A electrical power supply.
Specification and equipment
| | MIXER FOR OIL, FAT AND WATER PHASE |
| --- | --- |
| APPLICATION: | oils, fats, lipids, chocolate, glycerin, paraffin, waxes |
| OFFERED CAPACITIES IN LITERS | from 100L to 1000L |
| ROTATION OF THE FRAME MIXER | 10–60 rpm |
| ROTATION OF THE HOMOGENIZING MIXER | – |
| DRUM ROTATION RANGE | - |
| HEIGHT OF KEEPING THE PRODUCT TEMPERATURE | 95°C |
| VACUUM PRESSURE | - |
| ELECTRICAL POWER | 400/50HZ 32- 175 A |
SERVICE AND WARRANTY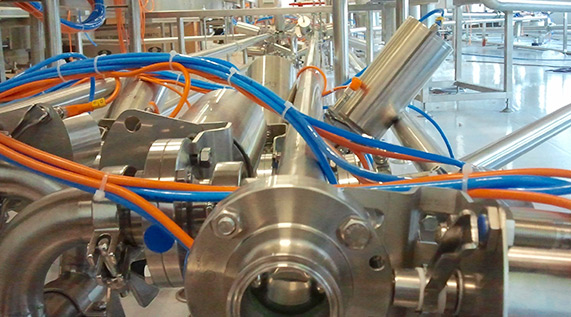 GENERAL WARRANTY AND SERVICE TERMS AND CONDITIONS